Why did my topic/messages disappear in the Message Center?
Please keep in mind that conversations in the Guild Tab are deleted after 60 days, so make sure to flag the topics you don't wanna lose as "important"! Guild Conversations marked as important will never have messages deleted.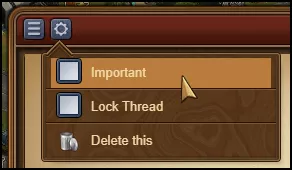 Upon removing the "important" flag over night, all messages older than 60 days will be gone, even if marked as important again on the next day (if no message is left, we also delete the conversation). This does not apply to the Guild default conversation, as this topic will continue to exist even if all messages are deleted after 60 days.